Sorry that these posts are lagging a bit behind my activity, it's been pretty crazy around here.  
In my first post, I told you a little bit about arriving and the science that's being done here in Antarctica and the excitement of arriving and getting swept up in the mix.  Now I figured I'd introduce you to a little taste of life out here in the wild white yonder.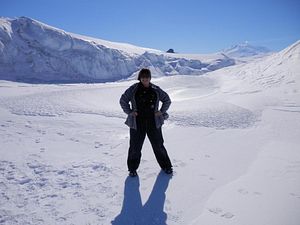 To say that "Safety First" is a mantra around here would be a serious understatement.  And that's with good cause...as they say, it's a harsh continent.  The biggest threat around here (in terms of shear risk) is definitely the extreme weather...after all, that IS why we study this place for astrobiology, all the extremes.  It's incredibly dry actually, a desert dressed in white.  Weather around here is categorized into just three categories defined by three axes--wind, visibility, temperature--none of those "partly cloudy with a chance of blizzard" for the folks at MCM.  Category 3 is what we've had most of the time I've been here, and that's quite typical for the mid-season.  
But, good weather is relative... since Condition 3 describes any condition down to wind chill of -75 C, 1/4 mile visibility and 48 knot winds...you know, nice weather.  Condition 2 is worse, wind chill temperature of -75 to -100, less than 1/4 mile visibility but greater than 100 ft sustained for a minute, and/or winds of 48 to 55 knots. See the picture of the truck? That's our truck, which Gonzo was driving when it went into Condition 2 and we couldn't see the road...we had to be towed out by the giant CAT, twice!  Condition 1 is of course the worst, with temperatures below -100 C, less than 100 ft visibility, and winds higher than 55 knots.  So far, it's only been Condition 2 once since I got hear, but they were ready for Condition 1 the night before I arrived, but luckily it subsided and gave me a chance to get here!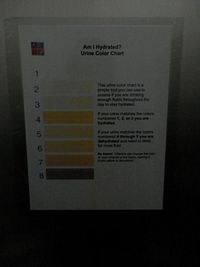 There are other threats of course...heavy equipment, ice, snow, blowing volcanic rock and ash (not fun in your eyes), animals, dehydration,remnant winter-over personnel (the folks who stay over the winter get a little, um, bitter, sometimes).  So how do we deal with these threats?  With training! Lots and lots of trainings!
The big training that everyone receives at some point is called Snow Craft 1, otherwise known as Happy Camper!  In your first season down, and every five years after that, you get to go out into the field with another group of newbies or rusties and camp out on the ice shelf.  You learn survival skills like operating the equipment in survival bags, using field stoves, putting up various types of tents (which is more challenging than you might otherwise assume), tying knots, and my favorite, making ice bricks to build kitchens, enclosures, snow drift walls to protect your tents, etc.  You als get to dig out snow caves to sleep in if you wish.  It's an amazing time, in my opinion.  In the in-between years, you go to a four-hour refresher course where you set everything up again, but this time inside the Science Support Center. This was my experience this year, still fun and a lot less time consuming, but I would have loved to be out on the ice again.
One of the bizarre things you get out of your trainings is the USAP Operational Risk Management Card, to help you assess risks you might encounter during the season..I guess they expect you to use these.  They've just changed the layout to make it more effective now, however.  It used to be that most risks, according to the card, could be alleviated by taking the following steps: "Have a Meeting and Proceed."  Now there's supposed to be some quantification...perhaps to help us scientists understand the concept?
Any scientist using the Crary Lab, which is where all the science offices and laboratories are located have to go through a Crary Lab Safety lecture and tour.  Anyone who wants to go out on a hike need to attend an Outdoor Safety Lecture, and for some hikes, you have to file a foot plan and ETA with the Fire Department so that someone knows where to look if the weather gets bad or you go missing.  Anyone working in any field areas, especially the dry valleys, attends an Environmental Field Brief.  If you are going to drive a truck anywhere to pick up or deliver gear, or get to and from the airfield for instance, you take a Light Vehicle Training Course.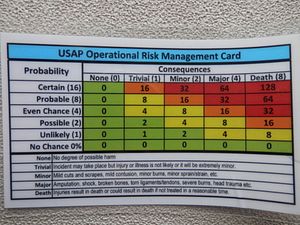 This year, I had new and fun trainings to attend because of our field logistics.  Because we were going to be out on the sea ice working, we needed Sea Ice training.  Sea Ice training usually is an all day training, with part of the day in a classroom learning the basics and then the rest of the day in the field learning how to identify and profile cracks in the sea ice for safety.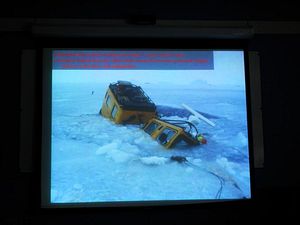 Because we arrived late, the training for us only involved the lecture and a practical part indoors where we learned how to use all of the equipment.  I was really glad to get this particular training, since never having worked on the sea ice before, I was quite nervous about the potential for being in a hairy situation with a crack...or one of teh "trap doors" I heard about in training, where what seems to be one crack has two auxiliary cracks that isolate a stable looking plate from any connection with its neighbors...terrifying!!!  I learned how deep the ice must be for different sizes of vehicles to drive across, and how wide a crack each vehicle can traverse, fun stuff like that!
We are lugging gear around the sea ice and ice shelf to remote locations, so we also needed snowmobile and pisten bully training.  Total score!  Snowmobile training was on a Friday, but it was Thursday back in the states, so it was actually Thanksgiving.
 We got really lucky...we had an awesome instructor, a small three-person class and a glorious warm, blue-bird sky day.  When we got out on the sea ice to get some training on the small snow course, our instructor was so impressed with us and happy about Thanksgiving that he took us on a longer course and we drove out and around the sea ice runway.  It was quite a treat :)  
Pisten Bully training was less eventful, but it did mean that we got to drive a Pisten Bully, which is a big track vehicle that feels like driving a giant video game and a monster truck and a slowly bucking bronco all at once.  They are truly awesome vehicles that can navigate 30 cm wide sea ice cracks, any hill you throw at them, and pretty much any snow or water on the ice, all at the rip roaring maximum speed of 12mph.  I've named my pisten bully Beastie.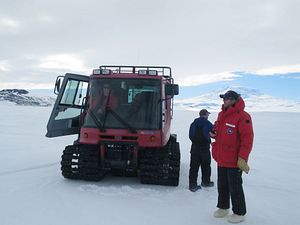 Buuuuuut...I didn't just do trainings!  I also got to have a really amazing trip out to see the operations of SCINI, the ROV that our project, SIMPLE (which I described in post #1) will be using this year to study the environment under the McMurdo Ice Shelf.  I was planning to go out and visit the team while they worked in the field anyway, but it turned out that day there was a helicopter taking a film crew out as well...so I got to hitch a ride.
We flew out over the pass between MCM and Erebus, over the Erebus glacier tongue and made a big arc down to the sea ice...all in 25 knot winds!  It was really a great view the whole way, and an amazing feeling, having never been on a helo before.  My favorite part was definitely the takeoff when we hovered, spun 90 degrees, and moved sideways before pulling up and flying out around Observation Hill.  Incredible!!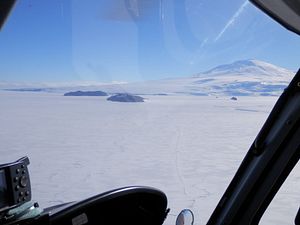 I also celebrated my second Thanksgiving in McMurdo this year!  Thanksgiving is really fun for a lot of reasons, not the least of which is the food.  Most of the time, there's a lot of canned, frozen, or shall we say not fresh food served at meal times.  The staff do a great job, even when it's mystery meal day--we actually had salisbury boca burgers one day---but it's just not the same.  So on Thanksgiving, they get huge loads of "freshies" and everything is delicious!  Dinner is served at one of three times, generally I go for the 5pm so there's enough time to get to the party early (Thanksgiving is one of the best parties at MCM since most folks get the day off).  The turkeys, hundreds of them, were amazing this year, and i stuffed myself on pumpkin and pecan pie, but the highlight was actually this incredible jalepeno peach cranberry dressing...to die for!  Luckily, there was enough for leftovers at the next day's lunch :)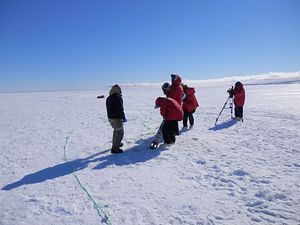 Following the dinner, we went to the first of two celebrations. The people at McMurdo are truly amazing, and many of them form bands, sometimes that last for multiple seasons.  One such band is Condition Fun, who play incredible funny and charming songs about life at MCM.  They were a huge hit.  My favorite was "C-17" sung to the melody from "Sweet Caroline" and with a chorus of 
C-17, wah wah wah, You're a really big airplane, SO BIG SO BIG SO BIG."  Then we went to Freezing Man, a dance party that went until the wee hours of the morn where many people dressed in ridiculous costumes and did face painting and hula hooping. There was even a hug booth. It was packed, and it was so much fun to be out there among the scientists and staff just going for broke on the dance floor! 
So yeah, a bunch of trainings, but also a bunch of great times.  McMurdo is like the best small town on Earth, about 900 people, but everyone has something interesting about them that made them want to come here, especially the staff.  I actually spend more time with staff like the fire department and the electronics techs and the dining room folks than I do with scientists, it's so much fun to learn about what makes these amazing people tick.
But somewhere in the mess of training and fun, there's a lot of work to be done...coming soon!